Strategies for a climate resilient Lake Constance district
The discussion of strategies and goals for adapting to the consequences of climate change was the focus of the second LoKlim workshop in the Lake Constance district on Wednesday, March 30 in Frickingen. More than 30 stakeholders from the district administration, politics, municipalities as well as experts from climate-relevant fields of action exchanged strategies, goals and measures for the development of a climate robust future in the Lake Constance district.
In his welcoming speech, Christoph Keckeisen, first State officer of the district, pointed out the importance of climate change adaptation for future development in the district. Mayor Jürgen Stukle explained by way of introduction the commitment of the host municipality of Frickingen, which is known beyond the region, to timber construction and solar energy, as well as the climate adaptation measures for heavy rainfall and flooding. In Frickingen, 2.5 million euros were invested in flood protection measures. In the view of Mayor Stukle, the investment has been worthwhile, as there have already been further heavy rain events in 2021 and no further damage has occurred here as a result of the measures.
The coordinator of the LoKlim project, Stefanie Lorenz, explained the goals for the second workshop: the visions for a climate resilient future of the district discussed at the first workshop will be further developed and concretized in the second workshop. The focus here will be on developing guidelines, strategies, goals and measures for a climate-robust Lake Constance district. Dennis Fila, PhD student in the LoKlim project, explained the guiding principles of climate change adaptation for the district derived from the results of the first workshop. On the part of the district, the focus is on supporting and informing the district municipalities and taking into account the changed climatic starting conditions. For the district municipalities, it is a matter of protecting the population from the unavoidable effects of climate change on the one hand and increasing the quality of life through progressive climate adaptation measures in all fields of action on the other.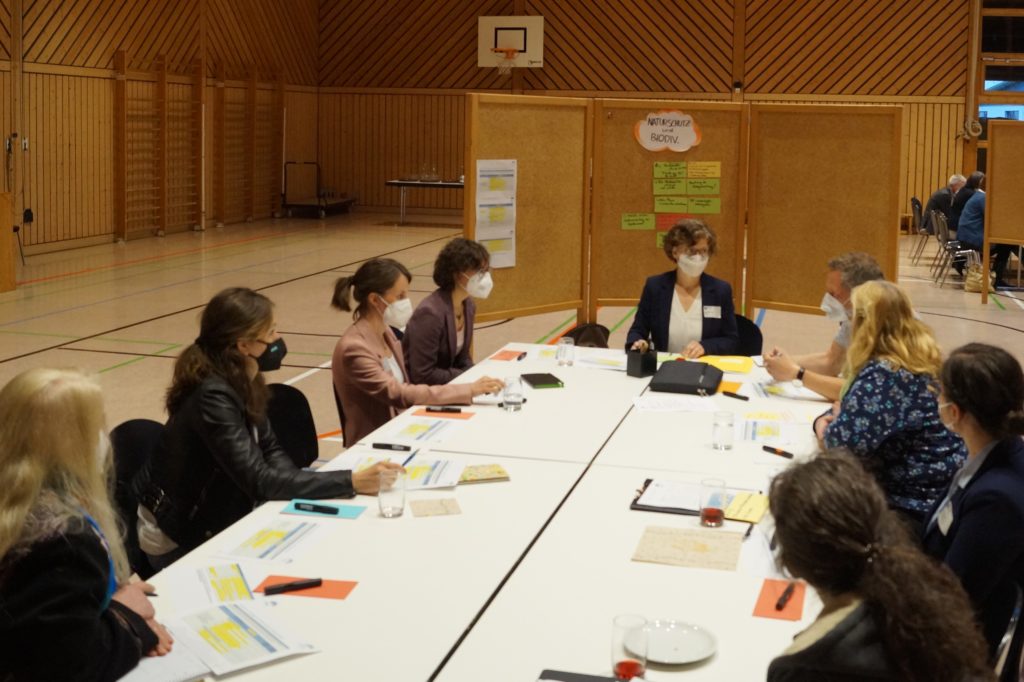 The concrete strategies and measures were discussed during the workshop in two blocks with four small groups each for the fields of action traffic, economy and trade, urban and spatial planning, health and social affairs, agriculture and forestry, water, tourism as well as nature conservation and biodiversity. The participants discussed the guidelines for the respective area, as well as the strategic goals and measures for each field of action.
The third workshop within the project is planned for July 13, 2022. Here, the measures discussed in the second workshop will be prioritized and a concept for the implementation of climate adaptation in the Lake Constance district will be launched.